This interview is brought to you by Startup Booster. Market your company with rapid, effective promotion across startup and business blogs.
Name: Chrissa McFarlane
Company: Patientory, Inc.

What are you building, and who benefits most from it?
Patientory is a population health data management and analytics company empowering users with a health data wallet to earn money and receive health insights via a health data marketplace exchange, which includes opportunities for personalized clinical trials. Its software is blockchain-enabled and aims to revolutionize healthcare data management and facilitate the secure and efficient exchange of patient information among healthcare organizations that include hospitals and private practices, patients, payors, and pharmaceutical companies.
The healthcare technology sector lags in adopting new technologies, leading to negative consequences such as subpar outcomes, increased inefficiencies, and higher costs for healthcare systems. This particularly affects the 2.3 billion individuals suffering from chronic diseases who are unable to benefit financially from their patient portals and personal health records for research and clinical studies. To combat this issue, Patientory has developed a health data wallet that aims to address the exploitation of the $300 billion in profits generated by data brokers through the sale of health information.
Through its two decentralized applications, the Patientory mobile app and enterprise software tool Neith, our company provides patients with access and insights and enterprises with comprehensive healthcare data, analytics, and AI-driven clinical trial recruitment management across systems to improve population health outcomes and employ personalized care plans that consider the entire history of the patient, including the social determinants of health. It can integrate into the major EHR systems (including Epic, Cerner, Allscripts, Meditech, and Athenahealth) and contains AI services to provide better insight and the secure storage and management of healthcare-related data specifically intended for use in AI applications.
171 founders interviewed so far. Get interviewed in 10 minutes, via a simple form, for free.
Patientory's platform has the potential to address the long-standing challenge of fragmented health data as it facilitates seamless interoperability and integration of data from various sources. This can lead to improved coordination of care, better health outcomes, and enhanced patient engagement.
What is one of your startup's most impressive accomplishments?
Patientory empowers users with control of their health data so they can earn personalized reward-based payments to maximize their health. Since its incorporation in 2015, Patientory has had several impressive accomplishments and has been acknowledged through industry recognition and awards such as The 10 Most Innovative Digital Healthcare Solution Providers 2018, Top 100 Startup of the Year, Top 40 Innovative Technology Companies in Georgia, and Technology Pioneers 2021, among others. Patientory was chosen as one of the top technology companies in the Southeast to present at Venture Atlanta FORWARD 2022 and was nominated for the Prix Galien Award for Best Digital Health Solution two years in a row.
Patientory recently launched two solutions—the Patientory consumer decentralized application (designed to help patients more efficiently and securely store and earn money from their medical data) and the Neith enterprise dashboard in partnership with Prosper Healthtech. There are more than 4,000 downloads of the applications.
What has been the biggest challenge so far, and how did you overcome it?
The biggest challenge I've faced so far has been starting a business in a new market. Breaking into the healthcare industry with new technology is certainly a challenge, and it was a tough decision to start a business in an industry dominated by men.
The most difficult aspect is getting access to venture funding as a woman. The majority of the investors we spoke with didn't grasp the connection between blockchain and healthcare or didn't perceive our business model as viable. However, it taught me what it takes to succeed as a startup in today's business marketplace and reinforced our fundamental focus on what we offer as a company.
What tool or app could you not live without and why?
Gmail. Email has become an integral part of communication in both personal and professional settings. Email tools and apps like Gmail provide a reliable and efficient means of communication, organization, and productivity, making them indispensable for many people in their daily lives.
This tool is essential for efficient communication and sending information quickly. With Gmail, I can easily manage my emails, organize them into folders, and search for specific messages when needed. It provides a user-friendly interface that allows me to compose, reply, and forward emails with ease. Additionally, features such as labeling, filtering, and priority inbox help me stay organized and prioritize my correspondence. The ability to access my emails from any device—whether it's my computer, smartphone, or tablet—ensures that I can stay connected and respond promptly wherever I am.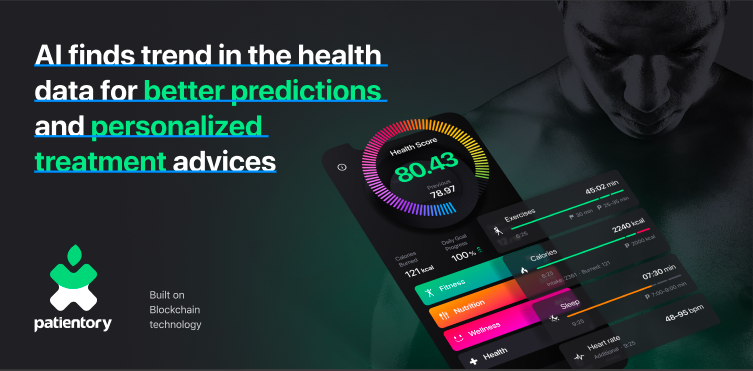 What marketing strategies have worked for you?
Influencer marketing has proven to be an effective marketing strategy for us. Collaborating with influencers who have a strong presence in our target market has helped us reach a wider audience and build credibility for our brand. By partnering with influencers who align with our brand values and have an engaged following, we have been able to generate buzz, increase brand awareness, and drive user engagement. Their endorsement and authentic promotion of our products/services have had a positive impact on our marketing efforts, leading to increased brand visibility and customer acquisition.
Can you share any financial data about your startup?
With our secure health data wallet, we have made our entry into the market by establishing a clinical trial data marketplace. This platform enables pharmaceutical and clinical research companies to recruit candidates effectively. Our initial success was demonstrated through contracts with Moderna for its COVID-19 vaccines, amounting to a total contract value of over $2 million. Since then, we have expanded our partnership network to include more than 15 clinical research organizations. With a subscriber base of over 50,000 individuals, we have secured contracts worth over $4 million and have a robust pipeline of 50+ organizations as potential customers.
Currently, we are actively seeking funding for our seed round, aiming to raise $5 million. Additionally, we have plans for a larger funding round of $25 million within the next 18 to 24 months. (Reported on July 13, 2023.)
What has been your biggest business failure to date? What did you learn from it?
One of the biggest business failures I have experienced to date is assembling the right team in a timely manner. It has been a learning process to identify and assess the specific individuals needed to form a cohesive and effective team, as well as recognize any missing skill sets or expertise.
This failure has taught me the importance of thoroughly evaluating team composition and clearly communicating the roles and responsibilities to ensure the right people are brought on board, fostering a productive and harmonious work environment.
What's the best specific piece of advice you have for other entrepreneurs?
My best specific piece of advice for fellow entrepreneurs is to prioritize building a strong support system that includes advisors and mentors. Surrounding yourself with experienced individuals who can offer guidance, insights, and support is invaluable. Additionally, actively engage with the entrepreneurial community and leverage the experience of other founders. Networking and building relationships with like-minded individuals can provide opportunities for collaboration, learning, and potential partnerships. Start building these connections early on, and consistently follow through and up to foster meaningful relationships that can contribute to your business growth and success.
Want to be interviewed just like this? Fill out this simple form.