This interview is brought to you by Startup Booster. Market your company with rapid, effective promotion across startup and business blogs.
Name: Daria Dubinina
Company: Crassula

Starting Up
What made you decide to start your own business?
Creating something that has never existed before is a hard yet very inspiring journey. There's magic in jumping from zero to one and working hard to push the project from one to a million. This is what inspires all the founders to risk, to create and embark on a journey into the unknown.
How did you come up with the idea for your startup?
171 founders interviewed so far. Get interviewed in 10 minutes, via a simple form, for free.
When Crassula was created, my co-founder Alexander and I shared more than 15 years of experience in banking and fintech. When looking at various cases on the market, you can clearly see the gaps and opportunities. It was a time of platformization in 2017; we saw the trend of bigger financial institutions becoming commodities, and although there were a lot of critics, the business model of banking white-label SaaS worked. Crassula secured the first couple of customers, and we got a few ambassadors as well. That's how the journey started.
Solving a Need
Who is your startup most useful for?
Crassula is a white-label banking software platform that helps financial institutions build their own banking products. Our customers are fintech startups and companies, holding structures, technology companies, resellers, marketplaces, and banks.
In simple words, we are developing software products for companies that would like to launch their own fintech products. They do not need to spend years and hundreds of thousands of dollars developing their product. Instead, they can entirely rely on Crassula's ready-to-launch software platform, which supports different business models and types, from daily banking to FX, from card issuing to crypto banking, from PSP to crypto exchange, and much more.
What problem does your startup solve, and how would you say it relieves "pain" for your customers?
We help our customers save time and money while getting a fully-functioning white-label banking software product they can adjust and brand according to their business needs. Crassula helps companies focus on business and lets them forget about IT.
On the other hand, we partner with BaaS providers, helping them add backoffice dashboard and advanced product offerings to their infrastructure and services, thus shortening their sales cycles. How does it work? Our partners can offer their customers ready-to-launch Crassula software, a technical product built on top of their BaaS (banking as a service) offerings, and fintechs can use a full offering to leverage their business in just a couple of weeks. In this way, we create a mutually beneficial solution for all parties involved.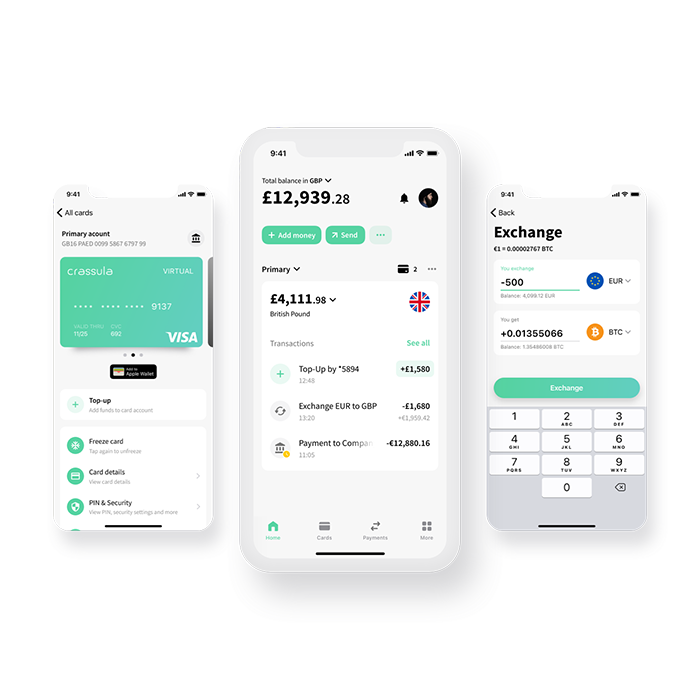 Raising Funds
Have you tried to raise funding? Why or why not?
Crassula is a bootstrapped business. We have been profitable for the last four years, with 80%-100% growth YoY. Although we've been in discussions with many investors over the years, we decided at the very beginning to focus on business, not on fundraising.
Cash Flow and Exits
When is the company expecting to be cash flow-positive?
Crassula is already cash flow-positive and generating profit to support its own growth.
What does a successful exit look like for your business?
A successful exit for Crassula would be an IPO.
What's your best financial management or cash flow–related tip for entrepreneurs who are just getting started?
Saving money is something of an art. Earn, save, and reinvest to boost your growth, and you'll always end up with a healthy business.
Marketing
What are some marketing strategies that have worked for you?
Crassula is highly engaged in marketing activities, both online and offline. Currently, we are working in various directions, including SEO, events, digital advertising, SMM, and blogging. Another direction is establishing strong partnerships with financial service providers and other fintech industry participants.
Was there any strategy that worked well early in the business but isn't as useful now?
When you are a bootstrapped company, you start with selling a lot of products and additional services. Further down the road, you always have to focus on the main business and eliminate the business activities that bring less value.
What are some marketing strategies that didn't work for you at all?
There are no marketing strategies that don't work. Each company has to find its own marketing mix but always use all the opportunities out there.
Competitors
Who do you believe to be your biggest competitors? How do you differ from them?
Our biggest competitors are Mambu, Toqio, Canopus, Advapay, and Ebanq.
What makes Crassula different? First, Crassula takes care of both backend and frontend development, creating a software product with a modern UI and a back office for full control. Another advantage is Crassula's extensive product range, which includes core banking, merchant payments, mobile banking, and crypto. Not every company can succeed in maintaining and developing all these different products at once. Last but not least are launching speed and a flexible pricing model—thanks to Crassula's solid partner network (currently 40+ BaaS partners and growing), launching a fully-operating fintech with us takes up to two weeks at a reasonable price.
Hiring and Employment
How exactly does the company develop talent?
We believe that people are our most valuable asset. We give them the necessary freedom and support to grow and develop as professionals. Thanks to the right people, we have created a culture of creativity, self-discipline, responsibility, and freedom instead of a commitment to processes.
We will continue to inspire innovative people to achieve even greater successes.
What criteria do you consider when hiring employees?
There are several qualities that matter the most:
Prudence
Sociability
Proactivity
Drive for development
Creativity
Determination
Navigating Problems
What was the toughest problem you didn't expect when you started? What did you learn from it?
Customer acquisition is always something that a business has to figure out at the very beginning. Since ours is a B2B2C company, our customer acquisition strategy is not that straightforward; however, finding the right marketing mix helps a lot.
What's the biggest mistake you've made in your business, and what did you learn from it?
Focusing on too many things is counter-productive. Always choose one direction and stick to it.
The Future
What does the company's trajectory look like over the next five years?
In the years ahead, we're planning to crack the global markets, including the U.S., Asia, and EMEA. In fact, the first moves towards expansion are to be made at the end of this year, which is already taking lots of research, support, and careful planning on our part. We strive to be the number one white-label banking solution around the globe. Whenever someone needs one, they immediately know who to call.
What are the biggest challenges your industry will face in the next five years?
The main challenges that fintechs usually deal with are speed and budget. The challenge is to launch very quickly without burning money along the way. Besides, the industry saturation makes it necessary to have a unique selling proposition (USP). At the other end, BaaS providers are facing difficulties in closing deals in a time-efficient manner. That's a lot to juggle without a creative and easy-to-launch solution.
General
How do you define success for a startup?
The idea is a determinant of a successful startup, but let's break it down. Anyone can come up with a grandiose idea and even bring it to life. However, if just one thing is disregarded, it will still result in a major failure.
For a startup to hit, you need to worship the idea and believe it to be everything, something that will change the world and make life easier and more joyful. Unfortunately, that's what many founders fail to realize when focusing too much on revenue and recognition.
What metrics do you consider the most important when monitoring the health of your startup?
We mainly focus on the following KPIs:
Revenue
Profit
CAC
Churn rate
Customer satisfaction level
Tools
What pieces of technology does your startup swear by?
As for Crassula's tech stack, we build the backend of our product using PHP framework Symfony, Google Cloud services such as Memorystore, KMS, Pub/Sub, CloudSQL for MySQL, and many more. For the front end, we mostly stick to the Angular framework. Our mobile banking apps are based on iOS Native and Android.
What productivity tools do you use?
We use Slack for daily communication. This tool facilitates organized and efficient online chats, video chats, and file sharing.
Another essential tool for our digital-first workplace is Jira, where we keep the whole company updated on important initiatives, set transparent top-level goals, plan out everything, and get it all done.
Want to be interviewed just like this? Fill out this simple form.