This interview is brought to you by Startup Booster. Market your company with rapid, effective promotion across startup and business blogs.
Name: Ben Conniff
Company: Luke's Lobster
In one sentence, how would you describe your startup?
Luke's Lobster is a vertically integrated sustainable seafood company, buying seafood directly from fishermen and handling it all the way to the plate in its international restaurant group, to the shelves in its branded grocery stores, and to doorsteps through its online market.

What are you building and who benefits most from it?
We're building a unique, stakeholder-driven seafood business that puts the needs of its team, its suppliers, and its guests before its pursuit of profits. Luke's Lobster is the highest-scoring B Corp restaurant group and seafood company in the USA because we prioritize our impact on the environment, coastal communities, and our team.
We are unique as a seafood and restaurant business in that we know the people and processes throughout our supply chain intimately, which allows us to deliver the highest-quality seafood products at the most competitive prices around the country and the world. We then reinvest in solutions our stakeholders need: helping our fishery fight climate change, upcycle its waste, and build more diversity, equity, and inclusion into its supply chain.
What has been the biggest challenge so far and how did you overcome it?
171 founders interviewed so far. Get interviewed in 10 minutes, via a simple form, for free.
Our biggest challenge so far has been pivoting through the restaurant closures and slowdowns of the COVID-19 pandemic. We had historically made almost all of our profit from our lobster shacks, which were bustling with guests looking to sink their teeth into lobster rolls before 2020. When the pandemic hit, folks stopped coming to restaurants, and some stopped coming to our shack neighborhoods altogether as they shifted to remote work, so we needed to pivot and diversify our revenue and profit sources.
This led us to drastically ramp up our production of branded grocery products and the number of grocery chains we sold our products to. It also led us to launch our online market early in the pandemic and rapidly grow it so we could get Maine's amazing sustainable seafood off the boats, keep fishermen getting paid for their catch, and bring that seafood into home kitchens around the country.
While there were times during the pandemic when we felt near despair, we've now been able to continually grow these new lines of business as our restaurant sales rebounded, and we built out a better delivery service to accommodate for reduced in-shack volume. Now we have additional legs to stand on, are stronger than ever, and are continuing to buy and share more amazing seafood.
What tool or app could you not live without and why?
The Nemco heated butter spreader. When you need to make a lot of lobster rolls fast, you need to get a lot of very delicate buns buttered before they go on the griddle to get that perfect, buttery toast. The butter spreader holds a reservoir of melted butter and has a wheel that rolls through that reservoir, picks up a coating of butter, and transfers it to the bun, allowing you to get the perfect amount of butter on the bun in a second rather than the 20 seconds it might take by other methods.
I imagine this isn't the kind of answer you're used to, but when you're a maker in a craft food business, there is no app or tool more important than the one that helps you make the best possible product.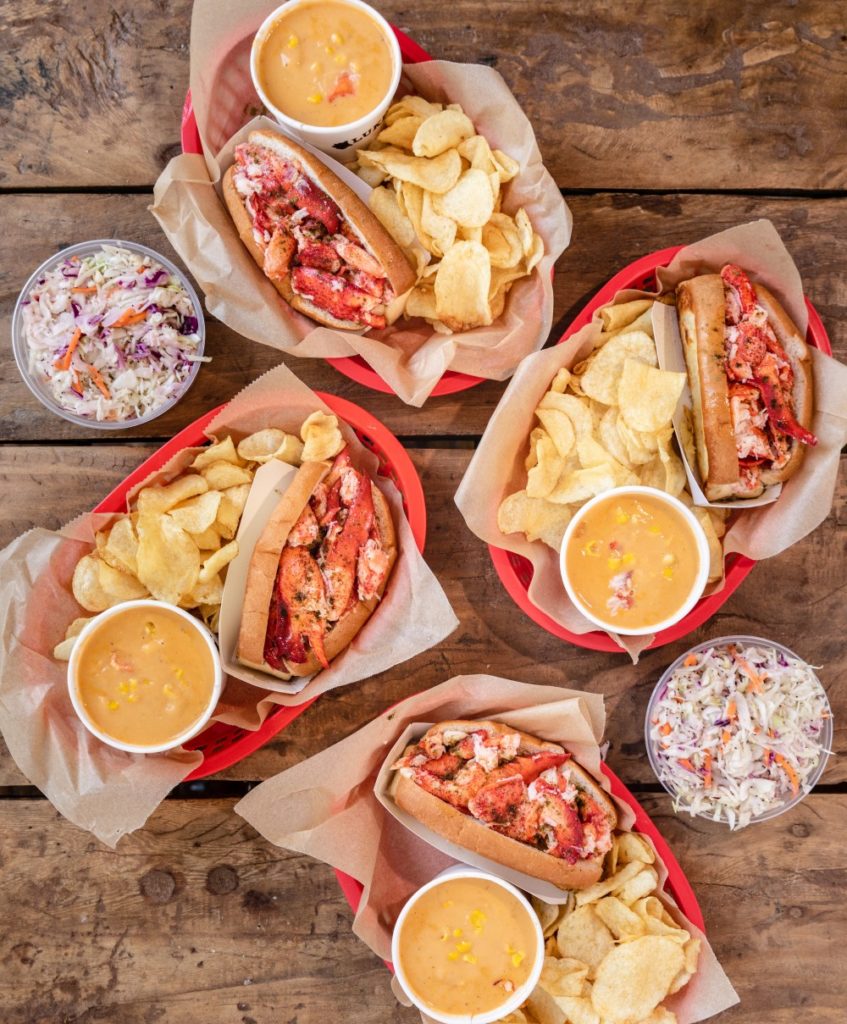 What marketing strategies have worked for you?
While at times social and digital advertising or organic content have been super helpful, the efficacy of this type of marketing waxes and wanes wildly based on changes in algorithms and ad costs. The two marketing tools that have worked for us from day one and still do are earned media and tasting events. I'm naturally skeptical of advertising and I believe most people are, but a trusted publication writing about your food, your business, your story, and your mission can get all of that info in front of potential guests/customers in a way that they will trust and act on.
The biggest bumps we've seen from marketing have come from some of the best earned media we've gotten, like appearing on The Today Show, having the lobster co-op we co-founded featured in The Times business section, or being interviewed on How I Built This. Beyond that, nothing sells our product better than people actually getting to try it. Putting in the effort and investment to get to community events, supporting causes that our shack communities care about, and getting hundreds of mini roll samples in the bellies of folks who've never tried us before consistently gets more guests coming through our doors. Every time we've pulled back from these events, we've noticed a reduction in new guests, so we're committed to continually growing this type of event in the future.
What's the best specific piece of advice you have for other entrepreneurs?
The Friedman doctrine is dead. The social responsibility of businesses is not to enrich their shareholders but to create positive impacts for their stakeholders and the environment while also generating sustainable profit. If you're not making a positive impact, you are going to struggle to make a profit. Customers want to support businesses that are verifiably focused on their social and environmental impact. Employees want to work for these businesses. Suppliers want to sell to these businesses. Also, studies show that mission-driven businesses return more profits over time by making better long-term decisions.
Don't start a business without thinking about how you can uplift and serve your community and the environment, and from day one, build systems into your organization that keep you from taking harmful shortcuts. Your relationships with your team and suppliers will lift or sink your business, so be sure you are always exercising your empathy muscle and understanding and prioritizing the needs of everyone your business touches.
What does your company's trajectory look like over the next five years?
We plan to keep growing all of our different lines of business, opening more Luke's Lobster shacks around the U.S. and in Asia, increasing the number of grocery stores where you can find our branded seafood products, adding more delicious items that put amazing lobster at people's fingertips in dished easy to heat and serve, and expanding the reach of our online market to get the world's best seafood to folks not in range of one of our shacks or grocery partners.
We'll also reduce our carbon footprint from being already incredibly low compared to land-based protein to being ever closer to net zero, and we'll expand our program for BIPOC student lobstermen to make sure there are equitable pathways into the most coveted careers in our industry.
Want to be interviewed just like this? Fill out this simple form.