This interview is brought to you by Startup Booster. Market your company with rapid, effective promotion across startup and business blogs.
Name: Christof Straub
Company: Global Rockstar GmbH

Starting Up
What made you decide to start your own business?
I started my first online venture in 2008, called Teenage Rockstar. A musician, songwriter and producer myself, I wanted to support young talents. Global Rockstar was then founded in 2014 with the aim to disrupt the traditional music industry via digitalization, with a focus on fair artist remuneration and fan participation.
How did you come up with the idea for your startup?
As a songwriter and producer, I often experienced that you need money to produce on the highest quality level, and to market your tracks. Because of this need, I started with fractionalized ownership of music rights on globalrockstar.com in 2017. Fans could become co-investors of new recordings and songs and participate in royalties for up to 70 years.
Solving a Need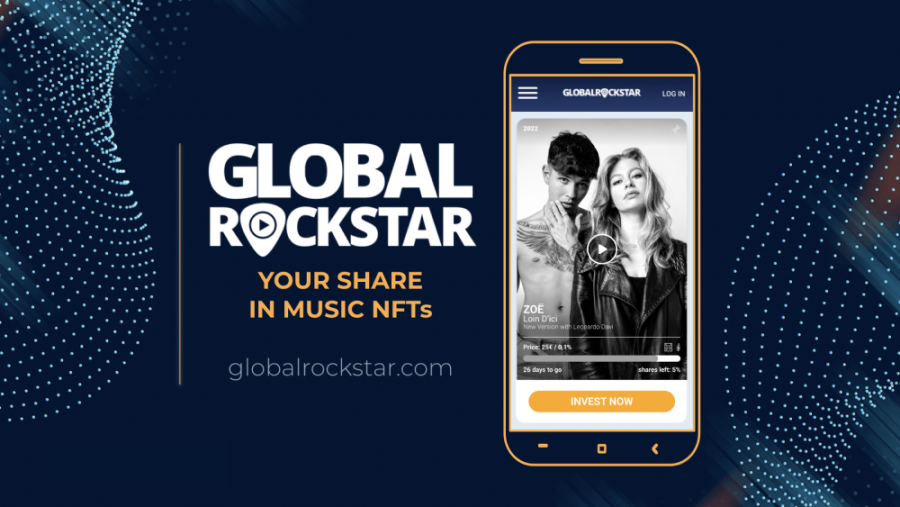 Who is your startup most useful for?
Giving up-and-coming artists fair chances to succeed.
What problem does your startup solve, and how would you say it relieves "pain" for your customers?
171 founders interviewed so far. Get interviewed in 10 minutes, via a simple form, for free.
1. For the first time, music lovers can own a part of their favorite song and participate financially.
2. Music rights are secured immutably and perfectly traceable in the blockchain.
3. Artists receive much fairer conditions than usual in the trade.
4. Unreleased recordings can finally be monetized.
Raising Funds
Have you tried to raise funding? Why or why not?
Yes. To finance software development, marketing and to build up the team.
If you've tried and succeeded, how hard was it to raise funding?
We had different experiences. From easy to tricky.
If you've tried to raise funding but haven't yet, why do you think that is? How much are you looking for?
We have currently opened up a new funding round to drive our international expansion. We are calling for an investment of US$10,000,000.
Cash Flow and Exits
When is the company expecting to be cash flow positive?
2023.
What does a successful exit look like for your business?
Exit as unicorn.
What's your best financial management or cash flow-related tip for entrepreneurs who are just getting started?
Stay prudent.
Marketing
What are some marketing strategies that have worked for you?
Social media marketing and being present at summits.
Was there any strategy that worked well early in the business but isn't as useful now?
Press releases.
Competitors
Who do you believe to be your biggest competitors? How do you differ from them?
Here's a visual analysis of our competition.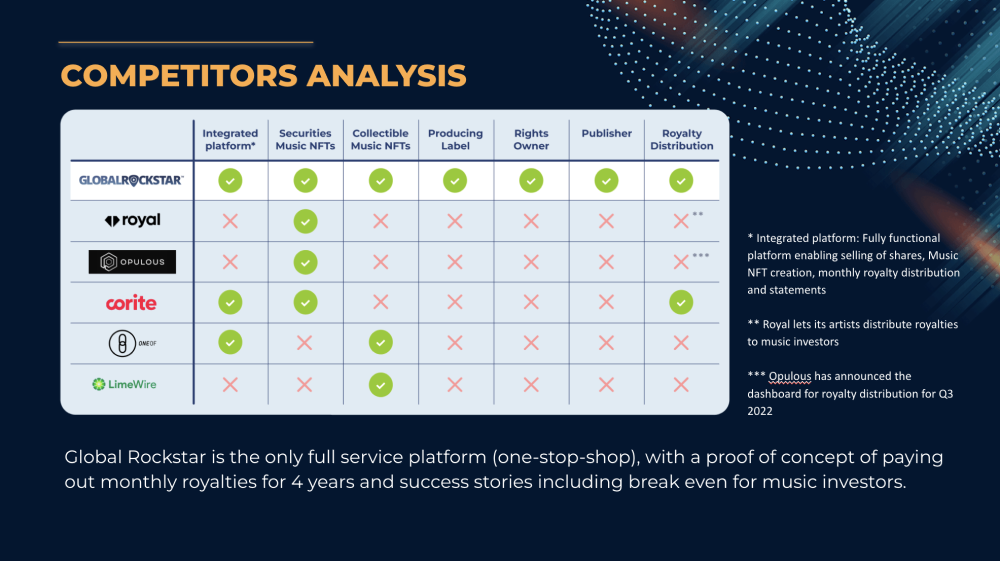 Hiring and Employment
How exactly does the company develop talent?
Creating a friendly, creative environment. Giving young people the chance to develop. Believing in individual talents.
What criteria do you consider when hiring employees?
Creativity, commitment, curiosity.
Navigating Problems
What was the toughest problem you didn't expect when you started? What did you learn from it?
Financial plans are easy to draft. Most of it stays a fantasy. Only the reality counts to find your business model.
What's the biggest mistake you've made in your business, and what did you learn from it?
To believe in a business model before proving it with real users.
The Future
What does the company's trajectory look like over the next five years?
International expansion. Additional offices (to our headquarter in Vienna and our London office) in Paris, Berlin, Stockholm, and NY.
What are the biggest challenges your industry will face in the next five years?
Convincing people that our music NFTs have real value, versus JPG NFTs that do not contain tangible value (and brought the NFT market to a relevant market correction).
General
How do you define success for a startup?
Finding a solid and sustainable business model.
What metrics do you consider the most important when monitoring the health of your startup?
Revenues.
Tools
What pieces of technology does your startup swear by?
Blockchain & NFTs
What productivity tools do you use?
Advice
What's the single best piece of business advice that has helped shape who you are as an entrepreneur today, and why?
Only facts count.
What's ONE thing you recommend ALL aspiring or current entrepreneurs do right now to take their business to the next level?
Bring your minimum viable product to the market ASAP and learn from real users to refine it. Stay agile.
What's one thing all entrepreneurs should avoid?
Thinking that everything is plannable.
Want to be interviewed just like this? Fill out this simple form.