This interview is brought to you by Startup Booster. Market your company with rapid, effective promotion across startup and business blogs.
Name: Omer Molad
Company: Vervoe

What are you building, and who benefits most from it?
Vervoe, an AI-powered job simulation platform, helps organizations hire great performers by focusing on skills instead of background.
With tailor-made skills assessments and job simulations built for technology jobs and customer-facing positions in areas such as sales, marketing, and customer service, Vervoe helps companies test soft and hard skills in the context they'll be applied so hirers can predict how candidates will perform. This also provides job seekers with realistic day-in-the-life previews of the roles they're applying for.
Using the platform has helped organizations worldwide drastically reduce attrition, significantly slash time to hire, and enhance the performance of new hires.
182 founders interviewed so far. Get interviewed in 10 minutes, via a simple form, for free.
Vervoe is trusted by some of the world's most discerning organizations, including IBM, Walmart, risk advisory firm Kroll, major ad firms Omnicom and WPP, Australia's national postal service, HR company TriNet, the City and County of San Francisco, and global security firm G4S.
What is one of your startup's most impressive accomplishments?
Our growing suite of job simulations is our proudest accomplishment so far.
Our mission is to make it easy for companies to hire the best performers, regardless of their background, and the best way to hire great performers is to see them do the job before your eyes as realistically as technology will allow. We've pushed our tech to create simulations that mimic a day on the job for a number of sectors, allowing candidates to showcase their skills in the same context they'll be applied.
Our cybersecurity simulations get candidates to solve network security issues, check sudo, and perform other tasks, all within a live terminal environment.
Our customer service simulations get candidates to answer customer queries by engaging with tickets that populate a Zendesk-like environment and refer to the knowledge base for answers.
Our upcoming sales simulations present a CRM interface where candidates can identify customers that are the best fit for their product, send them an email, and even leave them a message in a simulated phone call.
Each of these simulations offers our users increasingly realistic ways to test candidates' on-the-job skills in context and inform their hiring decisions as they observe whether people are capable of doing the job.
What has been the biggest challenge so far, and how did you overcome it?
Our biggest challenge so far has been positioning. We're the only platform that offers versatile role-based skills assessments that test soft and hard skills using a broad range of question types and a machine-learning AI to help grade, rank, and spotlight top performers without using unconscious bias.
We're also the only platform with a brand new immersive type of assessment called job simulations, where we place candidates in the exact environments they'll encounter on the job and get them to show you how they'd solve problems and complete tasks.
No one is doing what we do, and yet, when you search the terms "job simulations," "skills assessments," or "AI grading," there are a lot of products that claim to have apples-to-apples features—they're lying.
With competitors shamelessly relabelling what they have to make it look like our innovative products, you'd think our problem would be differentiation. Overall, however, it's educating the market on our solution and finding the best way to signal that no one can help them hire like us.
We've gone down the path of trying to create a new category because we don't fit into any of the conventional buckets where people lump hiring solutions. We're consistently compared to tools that do psychometric testing, resume screening, video interviewing, and more, but our product follows a completely different concept that's about more than just creating efficiency.
We believe hiring isn't about personality traits, previous experience, or how charming you are in an interview—it's about skills and performance. Skills-based hiring is an emerging category, with many companies claiming to have a solution. However, most don't compare to our offering.
How did we solve this problem? We'll let you know when we do.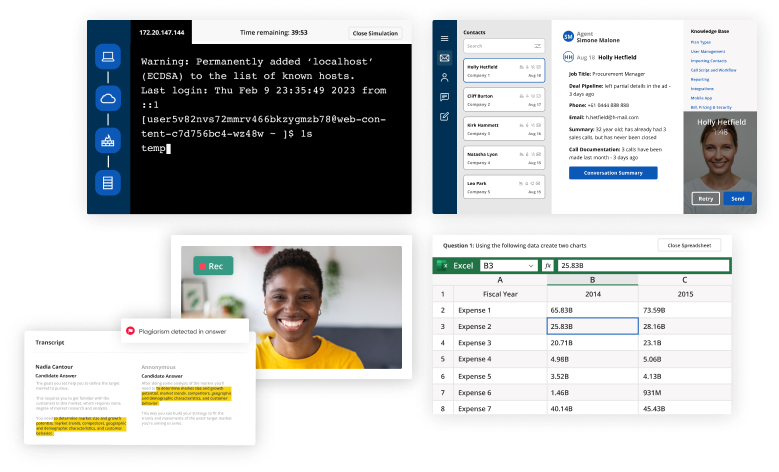 What tool or app could you not live without and why?
I hate to say it, but I can't live without Slack. I like instant messaging, being able to ping people in real time. I like how asynchronous it is—we have people working in three major time zones, so being able to write something and have someone read it within a 24-hour period is good. I also like that it's on your phone—I can sit in a park and run the company. I'd be lost without it.
Less for me personally and more for the company, Segment is a really underrated tool. It allows all our systems to talk to each other and brings everything together, so that's a fantastic tool.
The third one is Holistics, a data visualization analytics tool. I look at it multiple times every day. It tells me how many candidates have completed tests on the platform, showing me test completions by customer, number of demo requests, and more. It just gives me a bunch of pulse check stats and a sense of the business activity inside and outside of the product.
What marketing strategies have worked for you?
Intent-based inbound marketing is the first strategy that's worked for us. This is basically SEO.
Early on, when you don't know exactly who your customers are, you need to serve the desperate. So, the people you'll attract via search will be problem-aware, but they may not be solution-aware.
Seeing how they engage with your site, how they filter on product/feature pages, and whether they convert into demo requests, free trials, and purchases will tell you a lot about what messaging works. So, they're a good audience to teach you how to tailor the product and talk about the solution.
This can also set you up to eventually do outbound marketing, which is difficult when you don't know who to prospect, so it's a common early marketing strategy for startups at our stage of growth.
The other successful marketing strategy for us has been partnership development. It's been our highest converting channel because it's playing off an already established relationship built on trust between those partners and the customers they're referring us to.
We have a number of tech vendor partners and recruitment firms who bring us on board to help serve certain customers. When they're a trusted channel, they convert better, so that's a huge area of success and a strategy we'll continue to invest in.
What has been your biggest business failure to date? What did you learn from it?
Transitioning from being a founder to a leader is not for everyone, and it's something I've had to focus on in my time running the company. I've burnt myself out many times and have often set a pace and expectations for employees that have burnt many of them out as well.
It's been a challenge to improve my approach, maintain an even keel, and try to stop operating as if the company is in a constant state of emergency, which it kind of feels like to me every now and then. I've had to figure out how to maintain the passion and intensity that I think have made me a successful founder, project calm and normality, and still have fun.
I've sought feedback from my employees, worked with an executive coach, and continue to learn about how I can improve. So, the work on myself is certainly not done—I don't think it ever will be, but figuring out how to grow into the leader the company needs has been the biggest challenge for me so far.
What's the best specific piece of advice you have for other entrepreneurs?
Don't give up: It's that simple. When starting a business, there are just so many opportunities to give up, and there are days when it's almost impossible to see how you can go on. Most of this game is about finding a way to take the next step, but you can't find it if you give up, so don't.
Want to be interviewed just like this? Fill out this simple form.