This interview is brought to you by Startup Booster. Market your company with rapid, effective promotion across startup and business blogs.
Name: Stéfano Willig
Company: AWISE QuantoSobra

What are you building, and who benefits most from it?
As the CEO of AWISE, I'm part of a team building SaaS solutions that help small businesses manage their operations more efficiently and effectively. Our current offerings include two ERPs, QuantoSobra and AWISE, which provide small retail stores and other small businesses with online tools to manage their finances, inventory, clients, sales, purchases from suppliers, invoicing, and more. Our upcoming WhatsApp solution will help SMBs manage their conversations, automate sales and customer service, send automatic campaigns, and much more.
Our solutions are particularly useful for small businesses looking to streamline their operations and improve their bottom line, but any small business in any niche can benefit from them. Our ideal customer profile includes small retail stores, but our solutions are designed to be flexible and customizable for enterprises of all types.
Overall, our goal is to help small companies succeed by providing them with powerful and easy-to-use tools that help them manage their operations more efficiently so they can focus on what they do best—growing their business.
What is one of your startup's most impressive accomplishments?
182 founders interviewed so far. Get interviewed in 10 minutes, via a simple form, for free.
There are several accomplishments we are proud of, but one that stands out is our ability to provide small businesses with powerful, customizable, and affordable software solutions.
One of our most impressive accomplishments has been the successful launch of our ERPs, QuantoSobra, and AWISE, which have been well-received by our target audience of small retail stores and other small businesses. These solutions have helped our customers save time and money, allowing them to focus on growing their business.
Another accomplishment we are proud of is our ability to integrate with a wide range of third-party solutions, including eCommerce platforms, banking solutions, and CRMs. This has enabled our customers to streamline their operations and manage all aspects of their business from a single platform, which has been a significant value-add for many of our users.
Finally, we are proud of our upcoming WhatsApp solution, which we believe will revolutionize the way SMBs communicate with their customers and manage their operations. We believe it will be a game-changer for many small businesses, and we are excited to bring it to market in the near future.
In addition, I am proud to say that AWISE has weathered the pandemic period without resorting to layoffs. As a bootstrapped company, we have always managed our finances carefully and remained healthy, even in difficult times. We had only one angel investor helping us in the beginning, and we quickly achieved our break-even point, which enabled us to navigate the pandemic period with less difficulty.
Our ability to stay healthy financially also allowed us to build a sales machine that works entirely online. We sell and provide customer support through online channels, which has enabled us to scale our business with lower costs. Our customer support team is a particular point of pride for us as its members have been able to answer everyone in less than two minutes, resulting in a support score of 4.9/5 from our clients.
Another significant accomplishment is the fact that we built our tools and sales machine from scratch. We did not rely on external solutions, and this has allowed us to create customizable, easy-to-use, and efficient software for our customers. As a result, we are now serving more than 2,800 clients across Brazil, which we consider a significant achievement.
Overall, I am proud to say that AWISE has remained resilient and focused on providing value to our customers during these challenging times. Our team has worked hard to create innovative and effective solutions for small businesses, and we are excited about the future and the potential impact we can make on our customers' growth and success.
What has been the biggest challenge so far, and how did you overcome it?
One of the biggest challenges we have faced as a bootstrapped company was not being able to hire top talent. Instead, we had to rely on training our own team members from the ground up.
To overcome this challenge, I took on the role of coach and mentor, providing our team members with the support, guidance, and resources they needed to improve their skills and develop their careers within the company. We also hired external consultants and invested in training courses to provide our team with additional knowledge and expertise.
Although this was a challenging process, I am proud to say that our approach has been successful. Our team members started as interns and have grown with the company, gaining valuable experience and becoming experts in their respective fields. Today, we have a team of talented individuals who are working together effectively and competing with companies that have millions of dollars in funding.
Despite these achievements, we continue to focus on improving and refining our team-building and training processes to ensure that we can attract, develop, and retain the best talent in the industry.
What tool or app could you not live without and why?
ClickUp, Profitwell, Mixpanel, Google Workspace (calendar, Gmail, etc.), Miro, Google Data Studio, GPT, WhatsApp, Slack, and AWISE (we use our own solution to manage our company).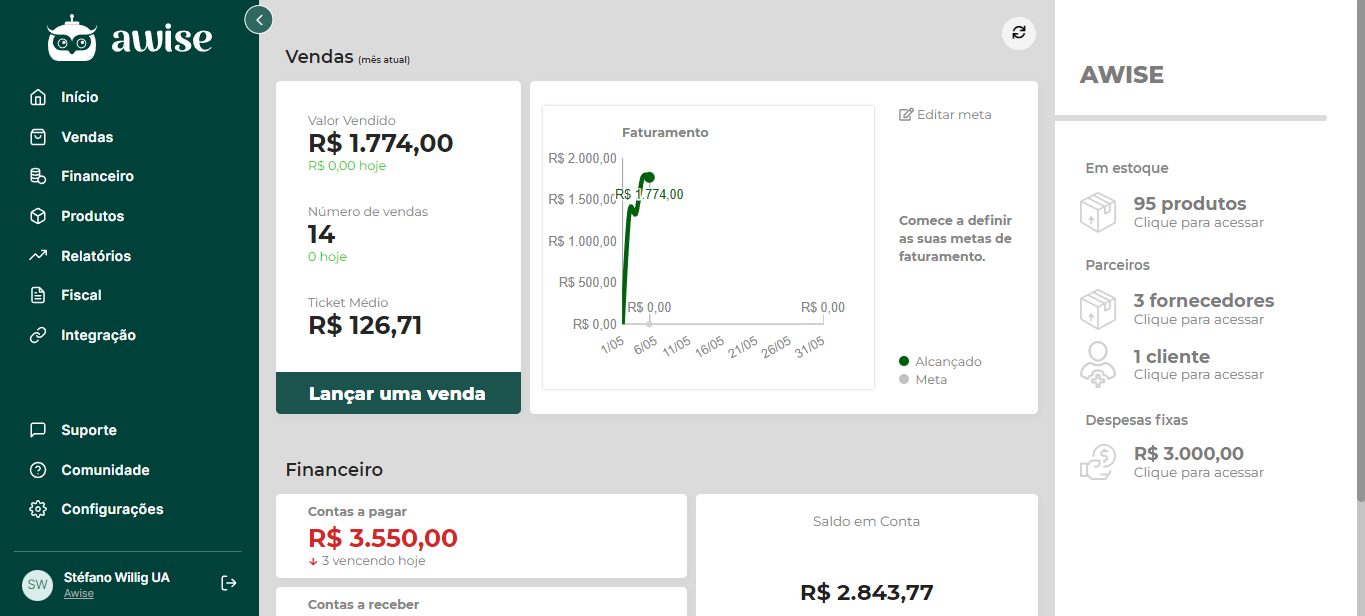 What marketing strategies have worked for you?
As a SaaS startup, we have experimented with various marketing strategies to promote our solutions to potential customers. Here are a few that have worked well for us:
1. Content marketing: We create high-quality blog posts, eBooks, videos, and social media content to educate our audience about our solutions and provide valuable insights into the challenges faced by small businesses. This has helped us establish ourselves as thought leaders in our industry and build trust with our target audience.
2. Referral marketing: We have a referral program in place that rewards our existing customers for referring new business to us. This has been an effective way to generate new leads and grow our customer base.
3. Partnerships: We have formed strategic partnerships with complementary businesses, such as eCommerce platforms and accounting software providers. This has allowed us to reach new audiences and expand our customer base.
Now we're starting to put some effort into:
1. Paid advertising: We have also used paid advertising, such as Google AdWords and social media advertising, to reach potential customers who may not have heard of our solutions before.
2. Influencer marketing: We have collaborated with influencers and industry experts to create content and promote our solutions to their audiences. This has helped us reach new potential customers and increase brand awareness.
Overall, a combination of these marketing strategies has been effective in increasing brand awareness, generating leads, and ultimately growing our customer base. We continue to experiment with new tactics and refine our approach to ensure that we are maximizing the impact of our marketing efforts.
Can you share any financial data about your startup?
We now have 2,829 paying customers and monthly recurring revenue of R$307,000 Brazilian reals. Our angel investor funded us with R$260,000 in 2014. (Reported on May 05, 2023.)
What has been your biggest business failure to date? What did you learn from it?
As a startup, we have faced our fair share of challenges and failures, and one of our biggest failures to date has been the decision to build a new software solution from scratch rather than improving our existing legacy solution. This decision proved to be a costly mistake for us.
While the new solution allowed us to implement features and functionalities that our legacy one could not, the cost of building new software from scratch was very high, both in terms of time and resources. This led us to lose a valuable opportunity in the market as we stopped developing our existing solution to focus on the new one. As a result, we lost deals and customers who could not wait for the new product.
However, we have learned valuable lessons from this failure. We now understand the importance of prioritizing when it comes to our resources and not getting carried away with new ideas and initiatives that may not align with our core business objectives. We also realized that improving an existing solution can sometimes be a better strategy than building something new from scratch.
We have taken steps to address this failure, including implementing a more rigorous approach to product development, prioritizing customer feedback and needs, and carefully evaluating new initiatives before investing resources in them. By learning from our past mistakes, we have become confident that we can continue to grow and succeed as a company.
What's the best specific piece of advice you have for other entrepreneurs?
Don't build the same product from the ground up—improve the old one. Build a team of founders with complementary skills and personalities. Stay focused on solving a specific problem for your target market, and don't try to be everything to everyone—identify a specific pain point or need that your target audience has and create a solution that addresses it effectively.
It's also important to be resilient and persistent. Starting a business is not easy, and you will face challenges and setbacks along the way. The key is to stay motivated and keep pushing forward, even when things get tough. Surround yourself with a supportive team, and don't be afraid to ask for help when you need it.
Last but certainly not least, always prioritize your customers. Listen to their feedback, understand their needs and wants, and strive to provide them with an exceptional experience. Happy customers are the foundation of any successful business, so always put them first.
Want to be interviewed just like this? Fill out this simple form.