This interview is brought to you by Startup Booster. Market your company with rapid, effective promotion across startup and business blogs.
Name: Tina Banerjee
Company: Userpeek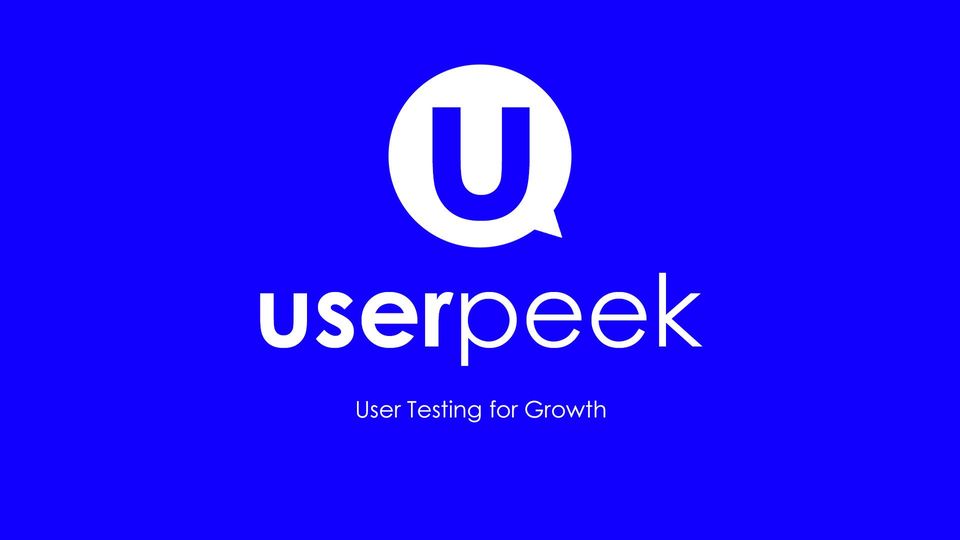 Starting Up
What made you decide to start your own business?
My career began in the startup scene of Berlin, where I built and led various teams in the areas of user experience, design, research, and marketing and played a key role in determining the strategic direction. Like many startups at the time, we were digital pioneers who knew how to use new technologies to turn data into actionable insights and use them to develop products and marketing that disrupted the relevant industries.
Over the years, I acquired expertise in various areas, all of which I wanted to develop further. The next logical step was to start my own agency. In my position as co-founder and CEO of Brainpath.de, I helped Fortune 500 companies grow their businesses. It was during this time that the idea for Userpeek was born.
171 founders interviewed so far. Get interviewed in 10 minutes, via a simple form, for free.
How did you come up with the idea for your startup?
One of the problems was that no one understood what customers really thought or how they made decisions. Unlike salespeople in local shops—who talk to their customers, see and understand them and react immediately when something is wrong—online businesses don't see their customers. They don't see what people are doing, how they are finding something, and what is bothering them; the customer is sitting at home in front of a computer or using a mobile phone while on the move, far away from those who are developing and optimizing the digital products.
Even today, it is difficult for digital companies to truly know their customers. This is where user testing comes in. It allows teams to really see and hear what customers are thinking in order to develop products that work. The teams I worked with used various tools to do this remotely rather than invite customers into the office, but it was difficult to get things going. Also, it took quite a long time to run such tests, with all the stages like preparation, testing, review, and evaluation, so I thought about a tool that would combine everything to test users remotely.
That's how I ended up co-founding Userpeek, aiming to build a tool that makes user testing as easy and affordable as possible for businesses of all sizes. I know how a single user test changes everything—from total uncertainty to "now we know what to do." It's as simple as that. If a picture is worth a thousand words, imagine what a video can say. Or, in the words of Avinash Kaushik, "You watch the videos and read the comments, you cry, you fix things, you become rich."
Solving a Need
Who is your startup most useful for?
Userpeek is a tool that makes user testing as easy and affordable as possible for businesses of all sizes. It is designed for UX designers, user researchers, product managers, and marketers. You sign up, enter the URL of the website, app, or prototype you want to test, and select specific customer segments. Within a maximum of 24 hours, you receive 15-20-minute videos of testers speaking aloud as they test your website, app, or prototype.
This is recommended on a regular basis, similar to A/B testing where you test everything before and after a sprint or campaign. Unlike A/B testing, where you only see that customers didn't click on a certain CTA or landing page, user testing tells you WHY they didn't. You'll be surprised to find out how customers really use your website and what they actually think.
What problem does your startup solve, and how would you say it relieves "pain" for your customers?
It's difficult for digital companies to really know their customers. Most of them are just guessing. User testing allows teams to see and hear what customers think in order to build products that actually work. When you understand why that is, you can stop guessing and start knowing. You'll know what designs, features, or products your customers will love. However, that's not all. You'll save time and money on developments that don't work because you'll test design prototypes before you develop them.
As a UX designer, user researcher, product manager, or marketer, you're constantly scrambling to secure resources and budget or to present and defend your work. With Userpeek's Highlight Reels, a video compilation of the most important moments from your testing, you present eye-opening hard facts and emotional context to support your decisions and requirements in a team meeting.
Business owners, CEOs, and entrepreneurs will enjoy accelerating business growth and product development.


Raising Funds
Have you tried to raise funding? Why or why not?
We are entirely bootstrapped, which gives us the most valuable asset: independence.
Cash Flow and Exits
What's your best financial management or cash flow-related tip for entrepreneurs who are just getting started?
The best chance you have is to be financially independent, even if it takes a little longer. If you can, do it. If not, take only the amount you really need. If your business needs huge funding (for example, to build a hydrogen-powered Evtol aircraft), do your research, do your math, and make assumptions. Be realistic and say what you know and don't know.
Marketing
What are some marketing strategies that have worked for you?
The primary goal was to engage with potential customers to ensure that our tool meets their needs and solves their problems. We do this with interviews and user tests. Through our pre-registered pool, we have gathered a significant number of interested customers waiting for Userpeek.com to launch.
Was there any strategy that worked well early in the business but isn't as useful now?
We focus on pre-launch marketing activities such as increasing organic traffic and conducting customer interviews to increase our lead and tester pool. It is still working very well.
Competitors
Who do you believe to be your biggest competitors? How do you differ from them?
None of the tools we were using had what we needed. That was the moment when Userpeek.com was founded. It is easy to use, allows automated testing, and is affordable.
Hiring and Employment
How exactly does the company develop talent?
We work 100% remotely. We focus on results and quality and work with exceptionally talented people around the globe who share our own motivation: to deliver the best product and services for our clients and to stay ahead of the crowd through insights.
What criteria do you consider when hiring employees?
Userpeek makes it super easy to get paid as a tester for testing websites and apps—just sign up here and take the trial test. The more diverse our testers are, the better. Testers can improve their skills in courses to even qualify as UX or Research specialists.
Navigating Problems
What was the toughest problem you didn't expect when you started? What did you learn from it?
When you start a new business, expectations are high. The biggest challenge was to remain patient. Software development has its pitfalls, and one of them is that things never go as expected. When you focus on the big picture and long-term goals, you can adapt to upcoming situations more quickly and flexibly.
What's the biggest mistake you've made in your business, and what did you learn from it?
Not trusting my gut instinct. Always trust your gut instinct.
The Future
What does the company's trajectory look like over the next five years?
COVID-19, the war in Ukraine, and climate change are having a profound impact on ecosystems worldwide and changing people's behavior—online shopping, home office, home and living, energy, resources, everything. Businesses need to monitor the changing behaviors of their customers and understand why these changes are happening. The best way to do this is through user research and testing.
Qualitative user feedback is essential for any business. Our advanced automated user testing tool will be one of the fundamental tools that every company will use to monitor, optimize, and grow its business.
What are the biggest challenges your industry will face in the next five years?
Every day, thousands of tools pop up with great ideas. To stay ahead of the curve, our decisions need to be better.
General
How do you define success for a startup?
We tend to default to money when we're talking about success, but for me, the ability to make a difference—to truly make a positive impact on our customers, our testers, and the world—is the definition of a successful startup.
What metrics do you consider the most important when monitoring the health of your startup?
Usage metrics combined with qualitative feedback and NPS. Health is when a growing number of customers who use our tool regularly no longer want to do without it.
Tools
What productivity tools do you use?
ClickUp, Slack, Notion, Google Tools, Basecamp, Zoom, Dropbox, Brain.fm.
Advice
What's ONE thing you recommend ALL aspiring or current entrepreneurs do right now to take their business to the next level?
It is not the idea that is valuable, but the successful implementation.
What's one thing all entrepreneurs should avoid?
Don't overvalue your idea. As said, it is not the idea that is valuable, but the successful implementation.
Want to be interviewed just like this? Fill out this simple form.