This interview is brought to you by Startup Booster. Market your company with rapid, effective promotion across startup and business blogs.
Name: Art Shaikh
Company: CircleIt Inc.


What made you decide to start your own business?
I've always had an entrepreneurial drive, even as a boy. When I was 12 years old, I would sell rides around the block on my motorized bike to friends and classmates. The neighborhood parents eventually sidelined my budding business, but it definitely lit a spark. Over the years, I've grown my endeavors to bigger and better things. The concept of CircleIt is built in memory of my father and is my most prized development.
Growing up, my father always had his camera around his neck, shooting pictures and videos at every family gathering. Photos would be developed and videos copied to be gifted to family members near and far. He always felt tremendous joy watching people's reactions to these special gifts.
182 founders interviewed so far. Get interviewed in 10 minutes, via a simple form, for free.
Over time, he began writing notes, documenting memories, and creating handmade cards that he would stash safely away in a large box alongside his treasured family photos and beloved old home movies.
How did you come up with the idea for your startup?
My father left behind this box overflowing with photos, stories, cards, and gifts for future life events with specific instructions on how and when to share these treasures with his beloved family. He wanted his legacy to live on and his family to continue experiencing his love long after he was gone.
CircleIt was built to replicate this unique gift, for my mother to help carry on his legacy, for others to experience the joy it has given all of us, and in memory of my father, Arif Shaikh.
Who is your startup most useful for?
CircleIt is built to help family members be there for their loved ones now and in the future. Whether it is a grandparent who wants to ensure they are there for their grandchild's wedding day or a mother with cancer who wants to impart wisdom to her daughter at specific moments, these are the people that the platform would most directly help.
What problem does your startup solve, and how would you say it relieves "pain" for your customers?
There are two certainties in life: death and taxes. We aren't here to help with your taxes, but we are here to help you stay connected with your loved ones, no matter what. In a practical sense, if you want to send your grandchild a wedding card with a special video message today and have it arrive when they are getting married, CircleIt does that for you. The pain point is not being able to be there for our loved ones when they want us there the most. CircleIt solves that problem worldwide.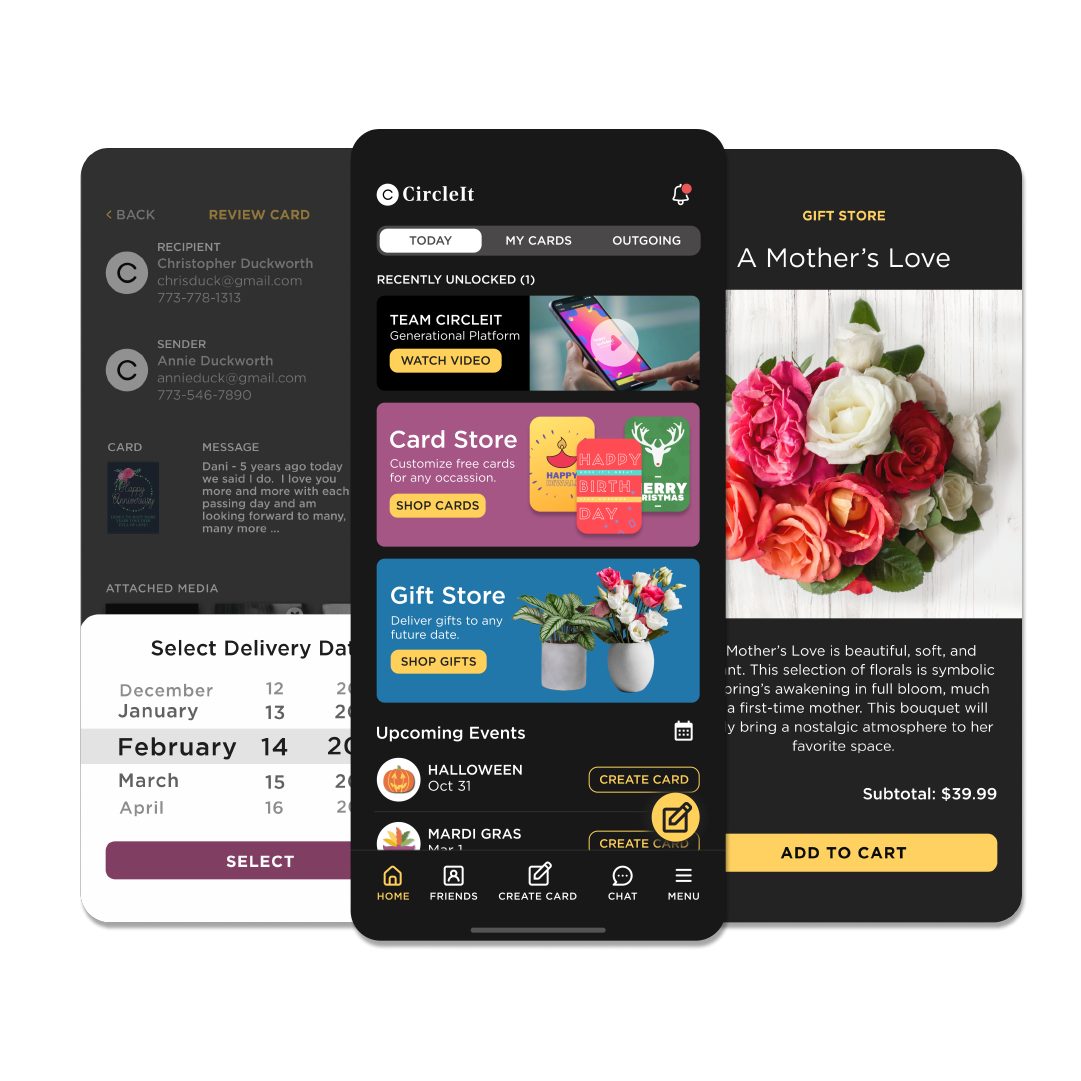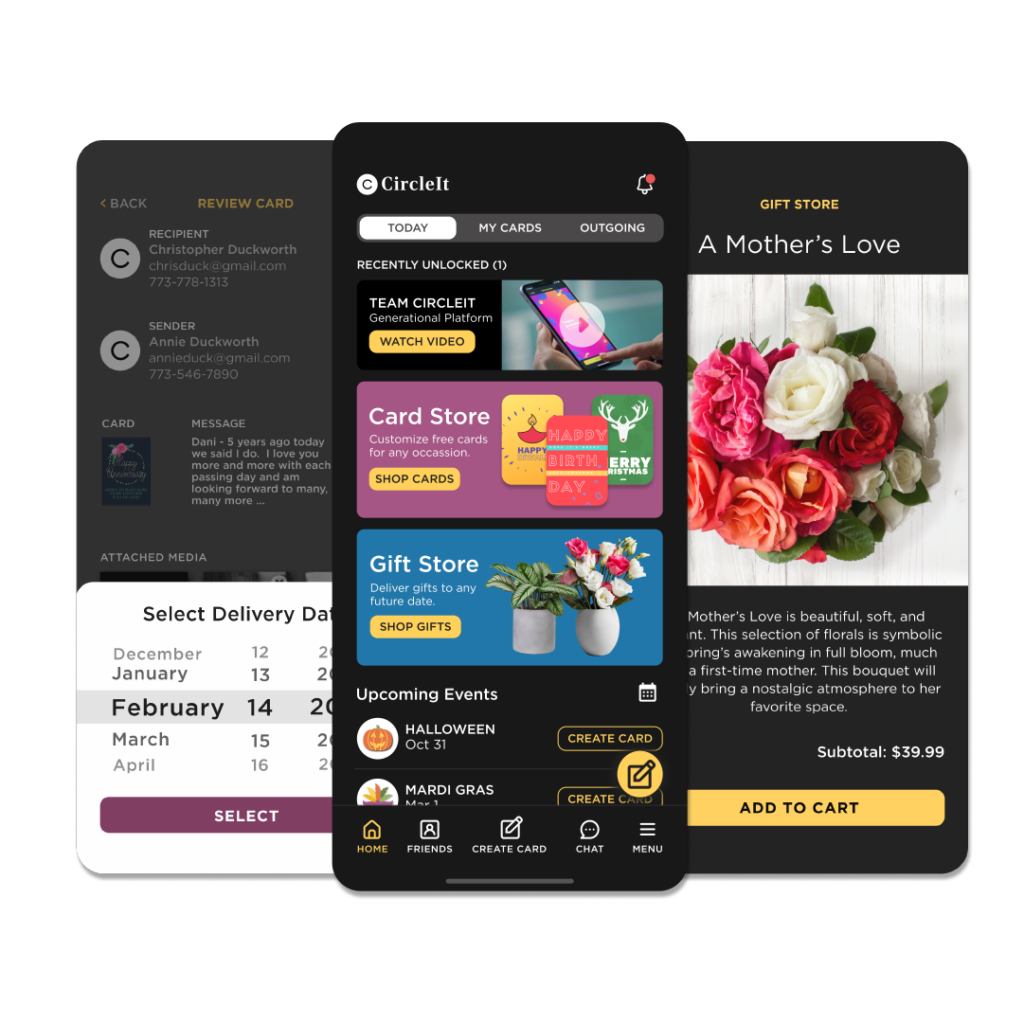 If you've tried and succeeded, how hard was it to raise funding?
We started with a Friends & Family round of funding, which was incredible. To see this technology resonate on such a personal and emotional level with those I am close with gave me the validation that the platform was something everyone needed.
We closed our Series A funding round in September of 2021. This enabled us to grow our team and our member base to four million globally. We are now in the process of raising a B series of $30 million.
Series A funding is difficult because of all of the legal framework and term sheets that need to be established. However, once potential investors experience the technology and understand how this is revolutionizing the world, they tend to come calling.
What are some marketing strategies that have worked for you?
We knew we had to be digital-first when it comes to marketing. We have utilized different strategies over time. PPC has been our most successful one in terms of acquiring new users. We also use PR to get the word out and increase our visibility in the press. We have a dedicated strategy for growing our social media channels as well, which is paired closely with bringing in brand ambassadors and influencers.
Who do you believe to be your biggest competitors? How do you differ from them?
Our technology is a first-of-its-kind, so there aren't any truly direct competitors. However, some of our features make us a competitor to brands such as Hallmark, WhatsApp, and Ancestry.com.
One key differentiator for us is the fact that we are a totally free and private technology. We have broken with the traditional model of tech businesses where they have to show you ads on their platform or sell user data to become profitable. We have been successful simply by providing our members with the ability to send cards, chat privately, and build their family tree for free, and we will continue to do so, which is our guarantee.
What criteria do you consider when hiring employees?
I have hired every member of my team personally. I look more for characteristics than skills. Skills can be developed over time, but I can't teach someone to click with our technology. That is something I look for when I interview candidates for any position.
What metrics do you consider the most important when monitoring the health of your startup?
We monitor several metrics in terms of user retention, installs, and other behavioral signals. However, the true sign of the health of our company is in the stories shared by our members. When a member tells us that they are able to use the technology to preserve memories of their aging parents for future generations to get to know them better, this is what tells me our company is in the best shape possible.
Want to be interviewed just like this? Fill out this simple form.