This interview is brought to you by Startup Booster. Market your company with rapid, effective promotion across startup and business blogs.
Name: Amin Memon
Company: Draftss.com

What are you building, and who benefits most from it?
Draftss provides an unlimited graphic design service that is changing the way entrepreneurs procure designs for their businesses. Draftss provides designers, illustrators, UI designers, and WordPress and webflow developers on a subscription basis. You can send any kind of request, and our top-notch designers will get it done in record time.
Draftss has helped tons of startups, SMBs, and agencies as they save time and lots of money by offloading all of this work to us instead of hiring an in-house team.
What is one of your startup's most impressive accomplishments?
In its four-year journey, Draftss has created more than 100,000 designs for its customers. Along with this, perfecting the pricing of the products is an accomplishment for us. We did it after various experiments, such as planning the pricing on a per-week model, per-quarter model, annual model, pay-per-project model, and more. I believe the current pricing model is the best way to reach out to our audience and deliver exceptional results for the customers.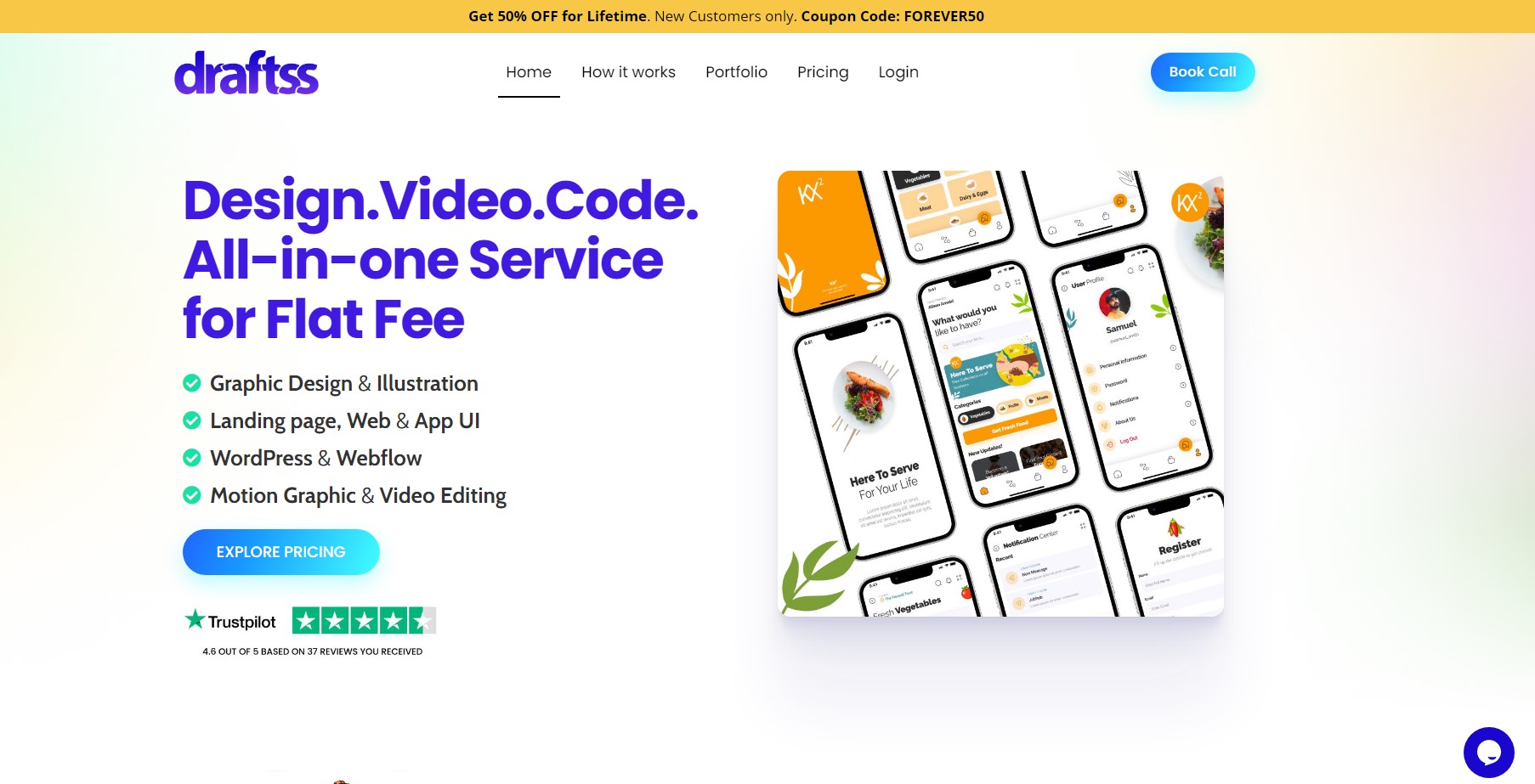 What has been the biggest challenge so far, and how did you overcome it?
171 founders interviewed so far. Get interviewed in 10 minutes, via a simple form, for free.
For a business like ours, the most challenging things are operating processes and hiring talent. We have solved both very efficiently, and, at the same time, we keep experimenting with innovative ideas. We have built super-efficient processes that can scale up with bigger teams. In fact, one of my top achievements as a founder is that the entire company is automated, and I don't have to spend time looking after things on a daily basis.
What tool or app could you not live without and why?
After using tons of apps to manage Draftss, one that stands out is ManyRequests. With this app, every customer gets a dashboard to send/manage their design requests. Rob and the entire ManyRequests team are doing a great job, making client and team management easy. They keep building out new features.
Another app that our entire team can't live without is Trello.
What marketing strategies have worked for you?
Our customers are our biggest marketing tool. We get a lot of growth from word of mouth. People love to talk about us with their colleagues and friends as we have an innovative business process and deliver great results.
Other than this, we also had great traffic coming from SEO, but with major updates from Google, that traffic has not been growing as expected. So, we are looking into how we can bank more on SEO.
What's the best specific piece of advice you have for other entrepreneurs?
Before you go ahead and build any product, stop and talk to your prospective customers. Engage with the communities where your target audience hangs out. Get traction before you write any piece of code. Probably build a quick landing page and test out your idea. Try doing a pre-sale of your product to check traction. This will let you know what your customers want, and then you will be able to create a much better product/service for them.
What does your company's trajectory look like over the next five years?
Instead of focusing on the next five years, we are focusing on the next 12 months. I'm looking to double down on the services we can offer to our current customers. Until recently, you could only do graphic design, UI design, WordPress, and webflow. We now offer motion graphics and are looking to add copywriting to the services. In addition, we are planning to add Angular, React, and Vue development.
P.S. To all founders and marketers out there, feel free to connect. Would love to help in any way I can 🙂
Want to be interviewed just like this? Fill out this simple form.