This interview is brought to you by Startup Booster. Market your company with rapid, effective promotion across startup and business blogs.
Name: Vita Valka
Company: Camperguru

What are you building, and who benefits most from it?
We're connecting the best camping spots in Europe with the right campers and travelers. We save time searching in large collections of single-type spots by offering a cherry-picked selection of the top locations with an amazing atmosphere.
Think of Camperguru as the outdoor travel inspiration resource for your summer holiday as well as all-year-round camping travels. We feature great spots in wineries, on farms, in private gardens, near monuments, and campsites as we know them.
What is one of your startup's most impressive accomplishments?
We've been able to build a fully remote team of van lifers and campers who circle Europe and verify the spots with us, taking professional photographs, videos, and drone shots and describing the spots. We have already found over 450 such spots in Europe, North Africa, and the Middle East. The growing traffic, bookings, and overall feedback show we're on to something.
What has been the biggest challenge so far, and how did you overcome it?
171 founders interviewed so far. Get interviewed in 10 minutes, via a simple form, for free.
As with every startup, our challenge is to effectively gain visibility and properly set up teams and workflows so that the project stays sustainable and brings happiness to both travelers and campsite and parking space owners around Europe. We are in the process of scaling up business opportunities and gaining traction. It has only been possible thanks to a dedicated and focused team of three co-founders and a remote team of freelance ambassadors who travel in their own campers.
What tool or app could you not live without and why?
Trello is our critical tool for organizing most processes and assigning tasks to the team members. We also benefit from all the common cloud tools such as Slack, Google Workspace, and the like.
We have a Camperguru mobile app as well, and it is a handy companion for every traveler in Europe looking for top-tier camping experiences. We've received great feedback from both Android and Apple users. We're humbled to see the adoption growing so nicely.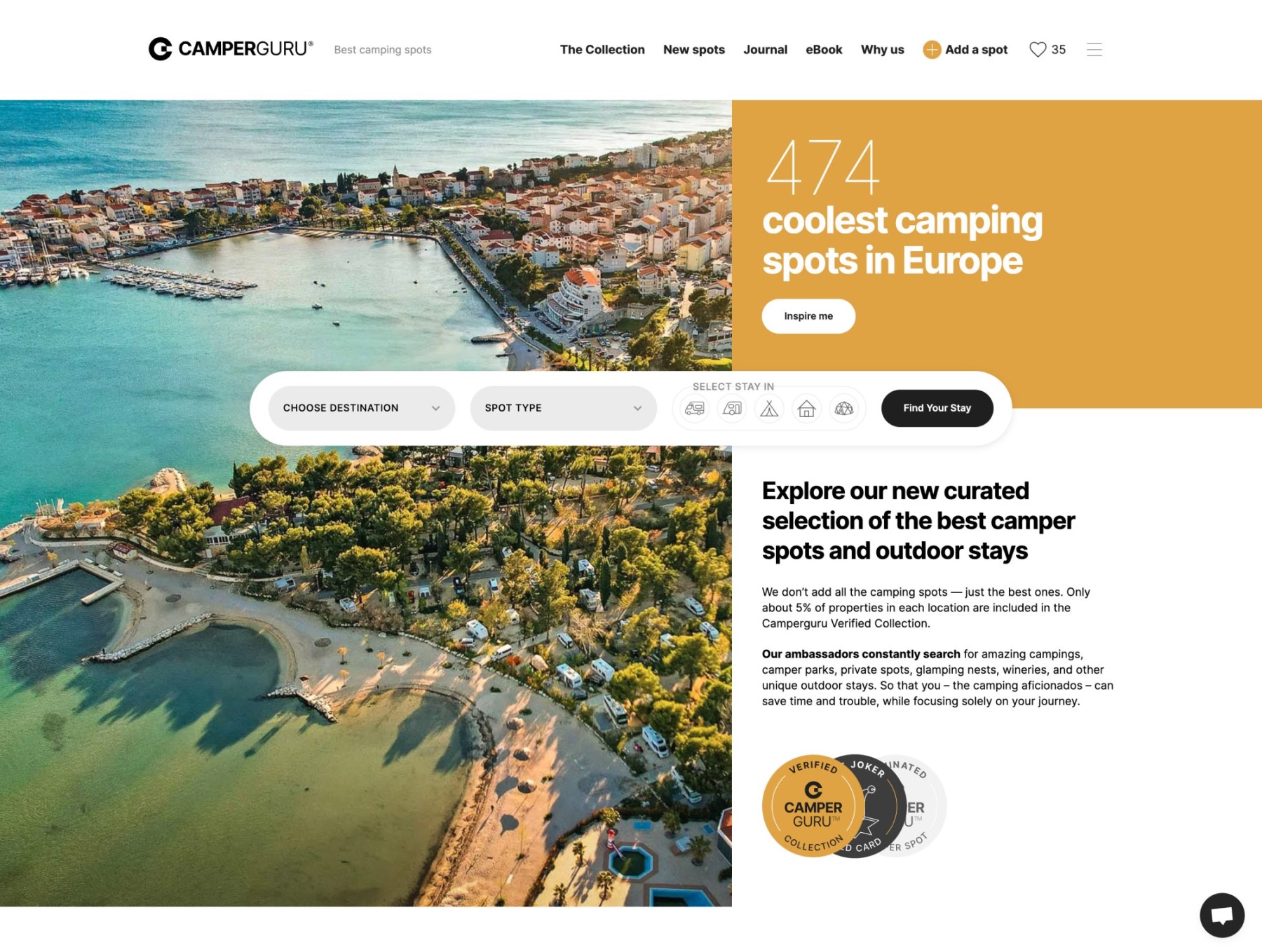 What marketing strategies have worked for you?
We are pretty successful with Facebook, Pinterest, and traditional PR in local media outlets. We've found the secret sauce, and with the unique, high-quality content we have, it works pretty well. Also, our team of ambassadors spread the word while staying in locations across the major camping countries of Europe, such as France, Spain, the United Kingdom, Germany, and Croatia.
What's the best specific piece of advice you have for other entrepreneurs?
Oh, there would be a ton of things! I myself have learned so many lessons in two decades of freelancing and participating in startups even before they were called startups. It is always a mix of great people on the team, solid research and evidence of business potential, and then thorough execution. I have seen so many dreamers who feel like it's easy to build a company and get rich, while the opposite is the reality. The majority of companies do not make it for a variety of reasons, so being sane and watching out is the way to go, at least for me.
What does your company's trajectory look like over the next five years?
We're now working on European spots. We must achieve much more significant traffic and revenues to be able to replicate the strategy in other regions. We feel extremely strongly about producing high-quality camping-related content, and if we do what we need to do step by step, I believe the Camperguru project will be here to stay and put smiles on faces every day.
In the next five years, we aim to grow our spots to some 1,500 amazing locations in Europe. We only feature about 5% of the best ones. We would like to have a dedicated team that is able to pull things off independently. Most importantly, we would like to help campsite owners grow and reach the right customers.
All in all, Camperguru is on the path to bringing more precious memories to families, digital nomads, and retired couples. We already see it and are so happy about it happening.
Want to be interviewed just like this? Fill out this simple form.